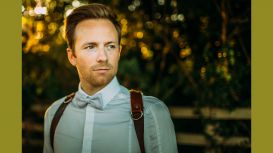 Hi - I am Ash Davenport and I m a Derbyshire Wedding Photographer working under the MiKi Photography brand.
My type of photography is all about three words, Love, Fun & Style.
'Love' – for me that's what a wedding is primarily about, and what I'm trying to capture the essence of: two people who love each other enough to say that they want to spend the rest of the lives together, surrounded by all the people most important to them.
'Fun' – whether you're a traditional, quirky, alternative, vintage or a rock n roll bride & groom, you should relax be yourselves, have fun, and just enjoy it – and then allow the pictures to reflect that. Don't worry I'll be mostly blending into the day capturing it all as it all unfolds and only step in where we've agreed or if it's really needed.
'Style' – I'll always strive to make you both 'look good' especially in the parts of the day where I get to spend a few moments with you and hopefully produce some pictures you'll be proud of and happy to show your friends.
If that all sounds good to you drop me a line and I would be thrilled to hear about your plans and how you feel I could be a part of your amazing day.
---
Services
An Engagement or Pre-Wed Shoot, is a great a way for us to get to know each other beforehand, build a rapport and for you to see how easy it is to get great images. It makes everything so much easier on the day. That's why I include one as standard in my photography package.
Reviews and Ratings
Clare Fenton, Belper, Derbyshire
I had the best experience with Davenport Photography. He made me feel completely at ease and I felt like he was capturing images without hardly any effort from me at all! The whole day was captured perfectly, and the pictures are beautiful and cleverly edited.

I think I am most impressed by the range of photos; there are no big, traditional set ups. The pictures are natural, un-posed and true. Our guests faces and actions are exactly how I remember them from the day. I also love the level of detail that was captured. Things that took months for me to chose are now in a beautiful photo for me to remember forever.

I think the photos are the most important part; they will be looked at and adored over and over again and they provide all the memories. They also gave me an insight into everybody else's enjoyment at our wedding because I found it went so fast.
By far the best wedding pictures I've ever seen and I'm so proud that they are ours. Thank you so much, you couldn't be more highly recommended.