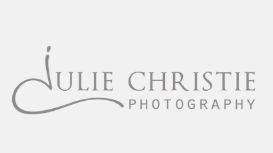 We really love getting to know you. In fact we feel this is vital in creating fantastic portraits. To capture the essence of you we must connect with you and understand what makes you tick. By the time we deliver your products to you we often feel that we have become friends. So it is only fair that since we like to find out as much as possible about you and your loved ones that we share a little of ourselves with you first!
Fiona and I have been friends since school. We couldn't be more different in many ways but this is probably why we work so well as a team. I am a self-confessed scatterbrain and rely on my gadgets (and Fiona) to keep me organised. Fiona wrote the book on organisational brilliance. She is annoying like that. Fiona loves to keep fit and can regularly be seen at the gym at ridiculous o'clock. My exercise regime consists of photographing toddlers (that is a workout you know!)
---
Reviews and Ratings
We do not have any reviews about Julie Christie Photography available right now.